Sochi 2014: Czech Republic Beats Slovakia 5-3 to Advance to Men's Hockey Quarter-Final
February 19, 2014.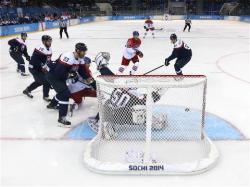 Slovakia scored three straight goals, but it wasn't enough to overcome the four-goal deficit built by the Czech Republic in their Sochi Olympics playoff qualifier on Wednesday.
The Czech Republic got the scoring started in the first period with two goals in 29 seconds by Alex Hemsky and Roman Cervenka. David Krejci made it 3-0 for the Czechs.
Roman Cervenka scored for a second time in the second period to set up a four-goal lead. After that Slovakia began to show signs of life as Marian Hossa made it 4-1 right before the second period expired. Two goals in 1:30 by Hossa and Tomas Surovy midway through the third period made it a 4-3 game.
Unfortunately a miracle comeback was not to be, as the Czech defense held strong for the remainder of the contest. Slovakia took a late penalty and Czech captain Tomas Plekanec added an empty-netter to seal the 5-3 victory.
Slovakia, which has considerable offensive talent and is led defensively by towering defenseman Zdeno Chara, finished the Olympic tournament with no wins in four games.