Sochi 2014: Anastasiya Kuzmina of Slovakia defends Olympic title in women's biathlon sprint
February 10, 2014.
Sochi, Krasnaya Polyana, Russia — Anastasiya Kuzmina of Slovakia won the Olympic gold medal in the women's 7.5-kilometer sprint Sunday, successfully defending her title from the Vancouver Games four years ago. She became the first woman to retain the Olympic biathlon sprint title at the Winter Games.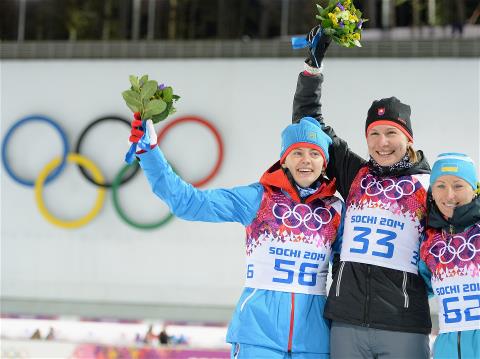 Kuzmina won in a time of 21:06.08, Olga Vilukhina of Russia took silver, finishing 19.9 seconds behind the champion, Vita Semerenko of Ukraine took bronze, 21.7 seconds behind.
Overall World Cup leader Tora Berger of Norway finished down in 10th place, more than 33 seconds behind the winner.
Born Anastasia Shipulina in Russia, Kuzmina took a Slovakian passport in 2008. Actually Kuzmina is Slovakia's all-time greatest Winter Games athlete, the only Slovak to ever win multiple medals at the Games, having taken gold in the sprint and silver in the 10km pursuit at Vancouver in 2010.
"Winning this medal in my homeland is a big thing, yes. I have a Slovakian passport but I'm a Russian national," said Kuzmina. "Here I'm at home. The atmosphere is so familiar. Everyone is so supportive, I feel so comfortable here."
Photo: Silver medalist Olga Vilukhina of Russia, gold medalist Anastasiya Kuzmina of Slovakia and bronze medalist Vita Semerenko of Ukraine pose during the flower ceremony after the Women's 7.5 km Sprint /sochi2014.com/