President of Malta Paying Official Visit to the Slovak Republic
January 23, 2014.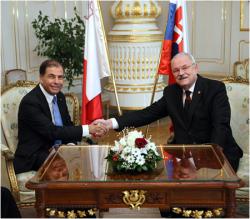 Slovakia, Bratislava: During the official visit of President of the Republic of Malta George Abela to Slovakia, both countries signed two bilateral agreements: Memorandum of Understanding between the Ministry of Foreign and European Affairs of the Slovak Republic and the Ministry of Foreign Affairs of the Republic of Malta and Protocol on Cooperation between the Centre for International Legal Protection of Children and Juveniles of the Slovak Republic and the Department of Social Standards of the Ministry for the Family and Social Solidarity of the Republic of Malta concerning cooperation in international adoptions.
President Ivan Gašparovič appreciated the friendliness of relations between the two countries at all levels. According to the President, the theme of the first Slovak Presidency of the Council of the EU stands high on the Slovak Government's list of priorities, hence mutual consultations between our countries in the run-up for their respective EU presidencies during their term as partners in the 2016-2017 Presidency Trio (together with the Netherlands) will strengthen our bilateral relations even further.
The Slovak President particularly acknowledged the fact that, back-to-back to the official visit of his Maltese counterpart, representatives of both countries' business communities and institutions met to facilitate mutual trade and identify new opportunities for cooperation, including in the field of tourism. The presidents also discussed the sensitive issue of the EU migration policy. Ivan Gašparovič emphasised that "the migration policy needs to be adjusted in a manner which limits migration for unacceptable individuals in terms of security, business and culture."
George Abela appreciated the discussion on opportunities to enhance mutual economic cooperation and expand the investment portfolio. Referring to the geographical location of Slovakia, the Maltese President said it predestined Slovakia for excellent cooperation within the region, similarly as Malta in the Mediterranean region. These comparative advantages may help intensify business flows. Addressing the Slovak-Maltese Economic Forum, President Gašparovič said that Slovakia belonged to major manufacturers of electronic products which, along with the automotive industry, became the driving force of Slovakia's economic development. He emphasised that the economic progress achieved in the past 20 years enabled Slovakia to invest abroad and, together with other states, also in third countries.
/Office of the President of the Slovak Republic/